Lutheran Disaster Response strives to help the church continue to be church in the midst of disaster — following Christ's call to bring hope and healing to our neighbors in need. Our congregation makes up an essential part of the church-wide effort both nationally and internationally.
Some key areas of disaster response include:
• Providing emotional and spiritual care for people who have been affected by a disaster and for leaders   who respond to a disaster
• Coordinating volunteers through our local affiliates
• Assisting refugees in a holistic way by meeting the varied needs of the community
• Promoting disaster risk-reduction by helping communities build their assets thereby reducing the effects of likely disasters
• Providing long-term recovery efforts by addressing the unmet needs months or even years after a disaster strikes
The ELCA has supported recent major disaster response efforts such as
• U.S. Storms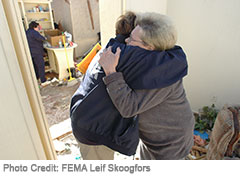 Through our congregations, synods and disaster affiliate organizations, Lutheran Disaster Response is working with social ministries and synods that serve the impacted communities in shaping the response to this dynamic situation across multiple states. This initial response of neighbor helping neighbor and organizations responding in their own communities will be expanded by our long-standing network of support to assist those impacted.
• Nepal Area Earthquake

Active in Nepal since 1984, The Lutheran World Federation began an immediate large-scale emergency response in and around Kathmandu on the day of the quake April 25th, 2015. Your gifts to Lutheran Disaster Response will support the communion's establishment of shelters and camps and the distribution of clean water, food, sanitation supplies and more in several districts in the Kathmandu Valley.
• Ukraine Conflict
Currently, nearly 1 million people are displaced within Ukraine and approximately 650,000 people have fled to neighboring countries. Assistance will be provided to approximately 20,000 people who are from conflict-affected areas, with particular attention given to women and children.
specific disaster you would like to donate to.
You can donate to support the ELCA Disaster Relief efforts by making a designated gift:
a. Placing your donation in the offering plate in
• pew envelopes (marked to support a specific disaster)
• special green envelopes in your envelope packet
b. Donate online through our TELC website. Follow the instructions at the top left of the page and towards the bottom in the Special Purpose box type  "Lutheran Disaster Response – _________" filling in the specific response you would like to donate to.
Like Lutheran Disaster Response on Facebook and follow @ELCALDR on Twitter.
(Photo credit: Hilmi Hacaloğlu 2015 via Wikimedia Foundation)
(Content authored by Evangelical Lutheran Church in America, 2015)